Tangy Vegetarian Nachos

Ingredients
3 tbs SINAMAK
1 tin baked beans
1 medium sized onion, chopped
3 medium sized ripe tomatoes, chopped
3 gherkins, chopped
2 fresh or pickled jalapeno, deseeded and finely chopped
1 ripe avocado, cubed
1 cup grated cheddar cheese
250g corn tortilla chips (Doritos can be used)
½ cup chopped coriander
½ tsp freshly ground black pepper
1 tbs grated parmesan cheese (optional)
Method
Arrange the tortilla chips in a single layer on an oven-proof platter or divide into two individual plates. Except for the cheese, avocado and coriander, mix together all the ingredients in a bowl. Warm up in the microwave for 1 minute and stir afterwards. Pour the mixture over the tortilla chips to about an inch thick. Sprinkle the cheddar cheese over it and place under the oven grill for a couple of minutes or until the cheese has melted. Remove from the grill. Scatter avocado cubes and sprinkle the coriander over it. Grate over the platesome parmesan cheese and sprinkle some freshly ground black pepper and serve.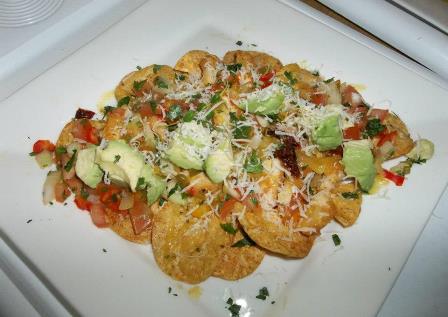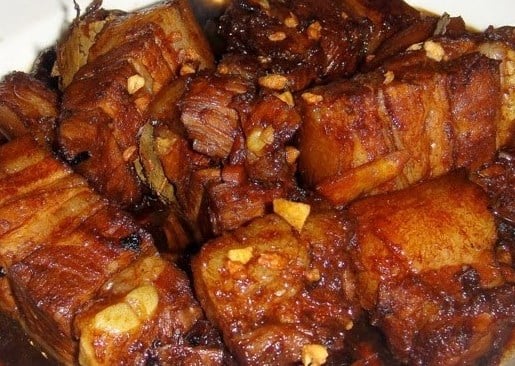 Spicy Pork Adobo
(Adobo is the national dish of the Philippines)
Ingredients
1 kg boneless pork shoulder, pork leg or pork belly, cubed
1 cup SINAMAK vinegar
3/4 cup Soy Sauce
1 large onion, sliced
1 head garlic, minced
½ tsp crushed peppercorns
1 cup water
2 tbs vegetable oil
3 pieces bay leaf
Method
Wash,cut pork shoulder into serving cubes and place in deep bowl. In a heavy skillet or wok, heat oil until very hot. Saute onions, garlic and bay leaf until brown and add the pork pieces. Allow to brown.
Add SINAMAK vinegar, soy sauce and water and bring to the boil and let boil for around 2 minutes. Lower heat to medium-high and simmer with lid on until liquid is reduced and pork is tender. Around 30-40 minutes.
Serve with hot steamed rice.
Beetroot and Carrot Salad
Ingredients
2 tbs SINAMAK
4 tbs lemon juice
2 tbs honey
1 tbsgrated fresh ginger root
4 tbs extra virgin olive oil
2 cups grated beetroots
2 cups grated carrots
Method
Dressing: Combine the Sinamak, lemon juice, honey, and ginger in a small mixing bowl. Whisk in the olive oil and set aside.
In a large bowl, combine the grated beetroots, carrots
Toss in the dressing and refrigerate until ready to serve.
Tastes even better the next day.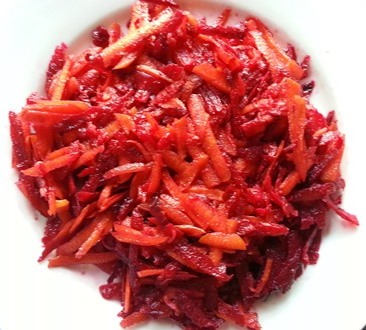 Cabbage braised inSinamak and Soy Sauce
Ingredients
½ cup SINAMAK
½ cup soy sauce
half a head of medium size cabbage
3 cloves garlic minced
1 cup water
pinch of freshly ground black pepper
1 tbs corn starch dissolved in ½ cup water
2 tbs oil
(Optional: browned bacon together with garlic)
Method
Brown the garlic in oil, add the cabbage and add all ingredients except corn starch (Maizena). Bring to a boil and stir a bit. Cover and simmer on low heat until most of the liquid has evaporated. Add the dissolved corn starch to thicken and create a sauce and cook while continually stirring for another 3 minutes. Done! Top on hot rice as main meal or use as side dish.
Note: If the Sinamak is too strong, add only half the amount indicated and replace the other half with normal white vinegar.
Calamari with Sinamak and Mango Achar
Ingredients
3 tbs SINAMAK
3 cups cubed calamari/squid
3 tbs mango achar
3 tbs vegetable or olive oil
1 tsp minced garlic
1 medium sized onion chopped
pinch of salt and pepper
1 tbs chopped spring onions
Procedure
Brown onion and garlic in oil. Add the mango achar and calamari. Pour in Sinamak and add salt and freshly ground black pepper to taste. Saute for about three minutes or until calamari is just cooked. Do not overcook. Remove from heat and add chopped spring onions. Serve on top of rice or pasta or egg noodle.